Luxoclean Airbnb Cleaning
Your time is valuable. Let our professional team at Luxoclean help alleviate the burden of cleaning and restocking your Vacation Rental property between Guests. We pay attention to every little detail to ensure that your Guests enjoy a memorable vacation and give you rave reviews!
Airbnb Rental Housekeeping Services
Luxoclean is not just your average cleaning company. We take pride in going the extra mile to make sure that your Vacation Rental Property exceeds the expectations of your Guests which in turn increases your income.
Here are some of the Benefits of partnering with Luxoclean to take care of your Vacation Rental Property:
Our quick and efficient turn around time will get your Guests checked in on time
We will restock your complimentary items such as soaps, bathroom tissue, water, coffee to ensure your Guests have everything they need for their stay
Laundering service for towels and linens is included for that fresh and clean "5 Star hotel" experience your Guests will tell their friends about
Luxoclean will help protect your investment by visually inspecting your rental for any signs of damages or repairs that need your attention
We can arrange guest check in and check out with a nice warm welcome to save you the travel time
If you have any other special requests that will help you make your Vacation Rental exceptional, just ask us and we will be happy to accommodate your needs. We are here to help you in any way we can!
Professional Airbnb Cleaning
Your Guests are Gold. Let our friendly, professional team at Luxoclean help you give your guests an exceptional vacation that they will remember and share with the world!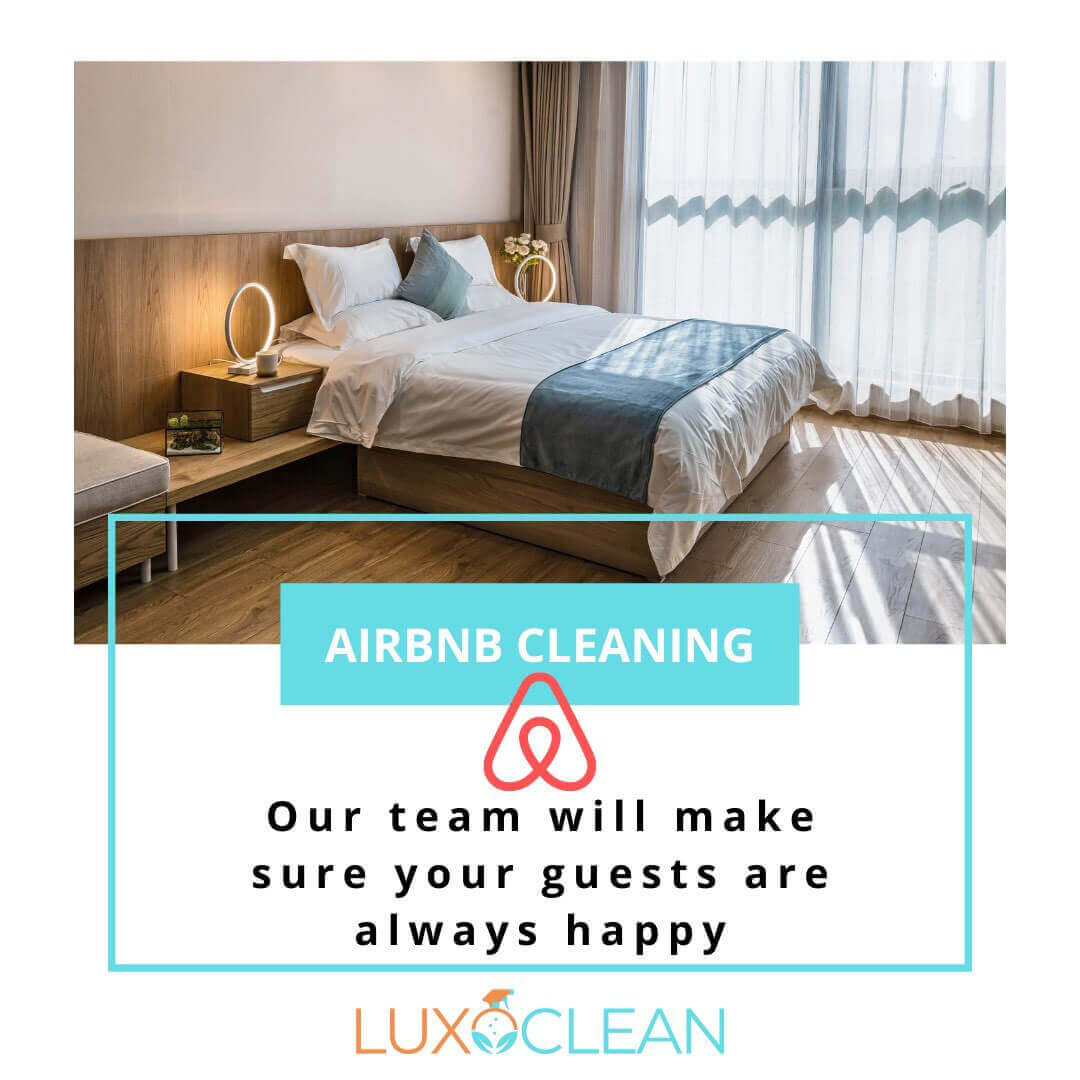 The Best Local Airbnb Cleaning Service
At Luxoclean we know that your Airbnb Vacation Rental property occupancy relies on 5 star reviews from your Guests. Ensuring that each one of your Guests is comfortable and 100% satisfied with the experience they have on their vacation is our goal. From cleaning to arranging furniture to stocking the Vacation Rental property with your essentials and welcome gifts, we do it all!
We go to great lengths to make sure everything is clean, orderly and welcoming for your valued Guests. Our professionally trained team is extremely efficient, allowing for shorter "down time" between guests.
Our Luxoclean professionals will follow your special instructions for each Guest to ensure that their experience is unique and memorable.
Quick Airbnb Cleaning Quote
Manage all of your required cleaning services online. Schedule, select services, and get a detailed quote in a matter of minutes. No obligation is required.